2014 looks to be an exciting year for the auto industry with the economy recovering and newer models on the offering. Customer preferences have changed lately with demands for low cost and fuel efficient cars increasing. Many companies have announced new models that will cost customers lower and also give a good value for their money. Here are 10 of the cheapest new cars that are going to rule the roads in 2014.
10. Toyota Corolla (Base)
Toyota's Corolla series has always been a popular choice in the market. The 2014 base model is a continuation of this famous series. The car has a starting price of $16,230. With an estimated mileage of 27MPG in city conditions, the car can be categorized as a fuel efficient vehicle.
9. Kia Forte (LX Sedan)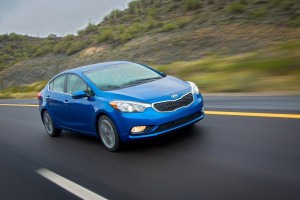 With an entry price of  $15,400 Kia Forte delivers a good value for money through its features. Mileage of 25MPG in city conditions makes it a fairly fuel efficient alternative. Its $1000 discounted price makes it an attractive choice for 2014.
8. Ford Fiesta (S Sedan)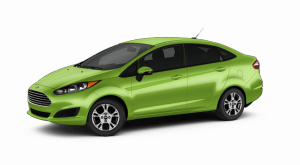 Priced at $13,200, the car has features packed for a fairly enjoyable experience on the road. 28MPG mileage at city conditions for a sedan like Fiesta can indeed be considered a wonderful figure.
7. Toyota Scion iQ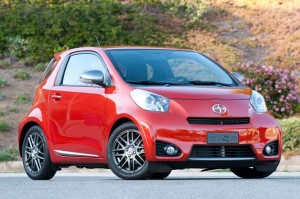 This extremely efficient urban crawler has a lot of fun features packed in its compact body. Starting from $15,495, its amazing 36MPG mileage in city condition and its safe and reliable features make it a red hot option.
6. Hyundai Accent (GLS Sedan)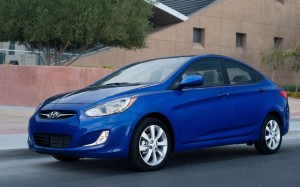 Hyundai's reputation as a price leader is strengthened further with the GLS Sedan. Starting from $14,545, this economic sedan includes many features that a cheap car usually wouldn't have, including air conditioning and power windows. Accent models are renowned for their 'trouble-free' reputation. So it wouldn't be a bad idea to buy it in 2014.
5. Kia Soul (Base)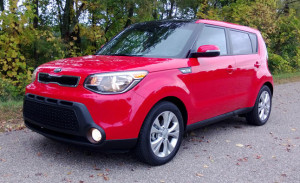 Although many do complain about the unattractive looks of this small crossover, the wide spaces and unique body do justify the starting price tag of $14,400. The average annual insurance cost of this vehicle is among the lowest among any available vehicle in the market, going just around $914. If you want uniqueness at a budget value, then this car is definitely for you.
4. Toyota Yaris (L)

The price tag of $14,370 more than justifies the reliability of Toyota. An impressive 30MPG mileage on a fairly powerful 106 horsepower 4 cylinder engine makes it well worth buying. The aesthetic features of the car can be considered better than most other 'cheap' vehicles.
3. Kia Rio (LX Hatchback)
This exciting new offering from Kia is generating new excitement from car enthusiast throughout the world. In the past, its reputation was of a car maker which manufactured only basic cars. However, the new Rio LX Hatchback puts Kia firmly in the stylish car maker segment too. With a starting price of $13,800, this car is set to rock the markets in 2014. It's city mileage of 29MPG can be considered wonderful.
2. Chevrolet Spark (Base)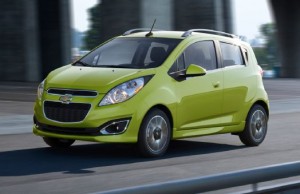 Chevrolet Spark series is regarded as the ideal small car for urban residents. Starting at around $12,185, the new 2014 Spark firmly establishes its reputation as an affordable car. Its city mileage of 32MPG makes it an ideal choice for the budget-conscious customer. Its sporty design also ensures that it's considered a serious car rather that the cheapest new car!
1. Nissan Versa (S Sedan)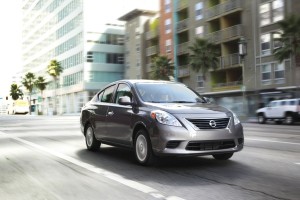 Don't be mistaken by the reputation of this sedan as a 'cheap' car. The $11,990 price puts this car on top of this list. With added features like air conditioning and CD stereo, as well as, a host of wonderful features — this car is well worth owning. An addition to this is the fair city mileage of 27MPG. Compared to similar models from Honda and Toyota, this affordable car comes with features that are certainly unbeatable. Overall, it can be considered that the Nissan Versa is the feature-packed,  cheapest new car.
Among the different cars featured on this list, which cheapest new car for 2014 are you interested in? You can leave your comments below.