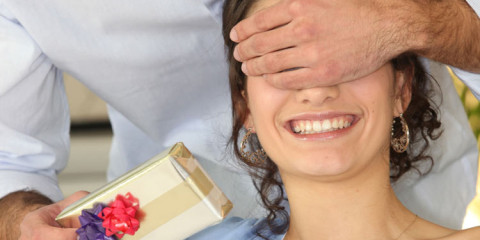 Are you looking for some romantic, but inexpensive gift ideas for your wife to show how much you love her?
Guys, you don't have to empty your pockets every time a special occasion comes rolling in. Of course, it is expected that you should prepare something special to give your wife. However, there are so many gift ideas for wife that do not require you to sacrifice romance because you don't have enough to buy her an expensive gift.
Here are the top 10 romantic and inexpensive gift ideas for your wife:
1. Cook For Her
Women love it when their men would take the time and whip up something special especially for her. This is especially true if he does not do it often or ever at all. What if you are clueless when it comes to cooking? Fear not, because there are many easy to do recipes you can search for online. Some recipes even come with an online tutorial that will guide you step by step. Whether it is cooking a simple omelette or preparing a full course meal, your wife will surely love it.
2. Make A Scrap Book
Women are sentimental creatures. It means a lot to them if their man makes an effort to remember the times they spent together. So put together a scrapbook with some of your photos together. You can put in some old love notes, tickets of concerts you watched and other little things you have done that will remind her of your happy moments.
3. Create A Music Video
If you are the techy kind of guy, make her a romantic music video. It can be your love song with a slideshow of your best photos of her. Add some subtitles letting her know how much you care about her.
4. Walk Her Down Memory Lane
Another great gift idea for your wife is a walk down memory lane. When couples have been together for a long time, they tend to forget some things they used to do in the past. Take her to revisit some places you used to go to. It can be a walk in the park, a picnic at the beach or that little cafe where you used to meet. Go back there and talk about the times when you were still dating.
5.  Give Her A Red Rose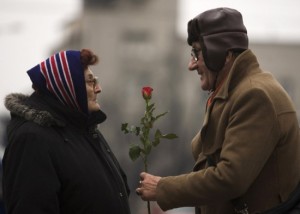 Another popular gift ideas for the wife is giving her a red rose – a symbol of your love. For most women, it's the thought that really counts. A red rose with a note saying "I love you" is a very meaningful gift from a husband to his beloved wife. It expresses his true love for her.
6.  Present Her A Work Of Art
If you have the talent, come up with a special work of art that is exclusively for her. It can be a painting or sketch of your wife's face. You can write a poem or a song for her. Whatever it is, anything you come up with expressing your love for her would work like a charm.
7. Sing For Her
Express your love for your wife publicly through a song.  At a party or in front of a group of people, sing to her your song and make her fall in love with you all over again.                                                                                                            
8. Watch A Romantic Movie
A good gift idea for the wife is watching a movie of her favorite actress or actor. It can also be a classic that you used to love. Whip up some snacks, a few beers and spend time snuggling up while watching the movie you bought her.
9. Give Her A Full Body Massage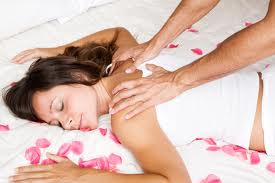 Get some sensual massage oils, scented candles and arrange a special time alone with your wife. Offer her a full body massage as your romantic and sexy gift for her.
10. Surprise Her
Women love surprises. You of all people should know the things that she likes best. Surprise her with something that you don't usually do. You can surprise her with the house chore she has been begging you to do. You can send her a little note saying how beautiful she is.  No matter what you come up with, it's the element of surprise and the thought that you remembered that will make her happy.
There are so many other romantic and inexpensive gift ideas for wife that you can try.  Your wife will understand if you cannot afford expensive jewelry or a trip for two to Paris. What matters most is the meaning of your gift which is your love and adoration.
What other romantic and inexpensive gift ideas for wife can you suggest? We would love to hear from you!