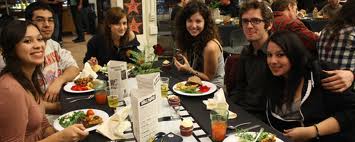 Being a college student is not just about fun and party. College life brings a lot of challenges especially pressure and stress from studies and peers. One of the challenges college students face is how to eat healthy in college.
Most college students stay in a dormitory where they can't cook their own food. Most of the time, they don't even get to eat a full meal. Because of studies, they would prefer eating at a fast food chain for convenience. Thus, eating healthy while in college becomes a problem.
Here are some tips on how to eat healthy in college:
Tip 1: HAVE A "I-WILL-EAT-HEALTHY" MINDSET
Most college students have  hectic schedules that cause them to just skip a meal or easily grab something unhealthy to eat. However, skipping meals or eating junk can cause one to be sick. You have to change your mindset that you need to eat healthy. Make it to a point to choose healthy food. This leads us to tip #2.
Tip 2: COME UP WITH A "HEALTHY MEAL PLAN"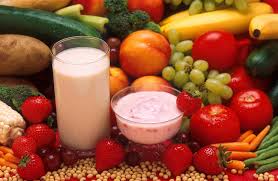 Here are some choices of healthy foods:
Low Fat Dairy Products: Dairy foods are the main source of protein and calcium which college students must eat. They can also prevent weight gain. (Soy milk, yogurt, tofu)
Nuts and Seeds: They are an excellent source of protein and healthy fats. Because of the nutritional content of nuts and seeds, they can keep you full for a long period of time. They are also easy to take with you when you have classes. Nuts and seeds don't require refrigeration as well.
Fish: Fish such as tuna and salmon are excellent sources of protein and omega 3.
Cereal: Whole-wheat and whole-grain cereals are generally high in fiber, vitamins and minerals. Cereals with nuts, seeds and dried fruit are a healthy meal or snack.
Tip 3: DON'T GO TO THE TEMPTING SECTION OF THE CAFETERIA
After choosing the best ones, stay away from the bad stuffs. Avoid unhealthy food like pizza, burgers, chips, pretzels, and desserts. Instead, go to the salad bar section. In case you are craving for something sweet, choose to eat fruits. With that, you will feel much better while in college. In addition to that, eat with friends who also want to eat healthy.
Tip 4: STAY HYDRATED
Our body needs at least eight glasses a day. Stress can dehydrate; thus, your body needs a lot of water. To make this step easy, always bring a bottled water to class.
Tip 5: ALCOHOL NO MORE
If you're a party animal or just frequently invited by friends to a party, keep in mind that alcohol supplies calories but NO NUTRITIONAL VALUE. There may also be health problems associated with drinking alcohol.
Tip 6: DON'T SKIP BREAKFAST
Skipping breakfast prevents you from doing well in school. Technically because going to class with your stomach empty is uncomfortable – which eventually, will cause you to get sick.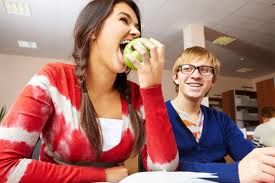 Tip 7: FIND TIME TO EAT
Instead of opting for fast food, find time to eat. You simply have to wake up a bit earlier so you can have a proper breakfast before going to school.
Tip 8: KEEP HEALTHY SNACK ON HAND
If hunger strikes during late night study sessions or while in a class lecture, you won't be tempted to go to the vending machines with candies, chips, or ice cream. Nuts are a better solution for this. They are handy.
Remember, you and your body will benefit once you decide to eat healthy. Being healthy helps you perform better in class activities. You are not prone to illness. Most of all, you get to have a better disposition in life.
With these tips shared on how to eat healthy in college, it is your decision whether you want to start eating and living healthy today or not. The choice is yours.