Is your friend expecting a baby boy anytime soon? Do you want to do her a favor and plan her baby shower? Well, here are some ways you can do so without breaking you and the guests' budget. Your friend won't even know how much or how little you spent. In planning parties, it's never the amount that makes it worthwhile. Read on ahead to find out some cheap baby shower ideas you can throw for a baby boy in the making.
10. Throw a Shower with Diapers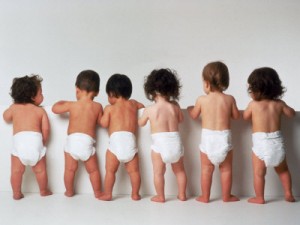 If you've been a mother to a baby, you'd know that you will be spending a lot of dollars on diapers alone. How many diapers? Well, to give you a shotgun estimate, think about how many times you need to change a diaper in a day and how long your baby is going to be wearing one. As a parent, you wouldn't want your child to develop diaper rash or feel uncomfortable because of an unchanged diaper. So, throw a shower with diapers as a thought. Tell your friends that they can bring a gift they want, plus diapers. They'd understand and would support the idea all the way.
9. It's a Shower of Frozen Meals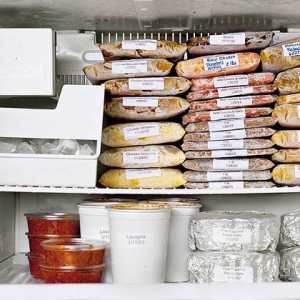 Throwing a shower doesn't mean all you'd be thinking about is the baby. You should also give some thought to the recuperating mom and her family. So, if you're planning a wedding for your pregnant friend, offer a frozen meals shower instead. Ask the guests to bring in a frozen meal in a disposable casserole or dish. This is rather inexpensive as home cooked meals are cheaper than baby gifts and items.
8. Start a College Savings Shower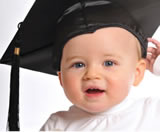 This might sound silly to some but once you have kids of your own, you'll understand why starting a college fund is important. There's no set rule when to start a college savings for your child, but who's to say you can't do that for a wedding? Find out which college plan the expectant parents want for their kid, find out the details, and then ask friends to contribute to the plan instead of bringing gifts. A few dollars for a lot of guests can mean lesser amount for the parents to pay in the future.
7. A Shower of Service for Expecting Parents
When your friend is expecting a child, don't hesitate to start a shower offering coupons or certificates promising a service that you can offer. Talk about cheap baby showers; this is one excellent example. Can't think of a service to offer? Here's a few to get you started: free babysitting when on a date night, yard help, an hour's worth of house cleaning, a homemade meal, and many more. When you have a baby, you'd know why gifts of these kinds are a great help to new parents.
6. Gas Up a Baby Shower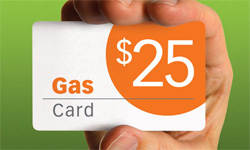 Who ever said that only working fathers or husbands could need a gas card? Mothers and new parents do too, especially if their child has not yet come home from the hospital. This is especially true for parents with babies in the NICU. A drive to the hospital daily can be cheap when you live near, but when you live far away, this can be taxing, what with all the tolls you need to consider. So, when inviting guests to a friend's shower, tell them that a gas card would do. Guests would love it as they won't have to go to all the trouble finding the perfect gift for your baby boy.
5. Bib and Onesies Shower Decors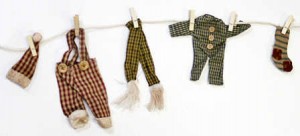 Trying to come up with decors for a baby shower can be a cause for headaches. Ask friends to help and in turn lower the overall costs of the shower and gifts by asking each guest to bring bibs or onesies to be used as a garland décor. This is one decoration the new parents won't have to throw away. In fact, they can use it for their child and coming children!
4. Shoes Table Decors

A great idea to a cheap baby shower is to combine decors with gifts. Make use of decors that the new parent can use for their baby. You can use pairs of shoes and fill them with mints, confetti, or anything colourful that will liven up the table décor. When done, you won't have to worry about the decorations being thrown away, because they are sure to be kept and used afterwards.
3. Be Creative with Shower Games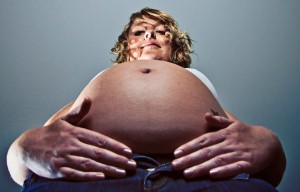 What baby shower exists without games? There shouldn't be any that doesn't exist! You don't have to adjust your budget to fit in games. In fact, you won't even have to spend anything at all if you're real creative. One great baby shower game is the guess how big mommy's tummy is game. All you need is a roll of tissue paper and ask the participants to break off the length of tissue paper that is equivalent to the mother's belly circumference. It is fun and it's cheap. What can be better than that?
2. An All in One Gift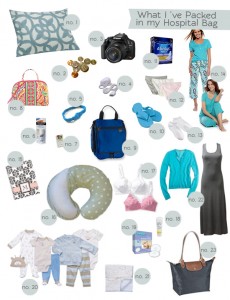 Rather than have every guest pick a gift of their own, make a list of one that your guests can choose and buy. A gift that an expectant mom can bring with her to the hospital is a great idea. Get a bag and then fill them with items that are helpful for a mother's hospital stay such as cozy socks, music CDs, travel sized toiletries, a few of her favorite treats, and many more. Each guest can pick one so that when put together, it makes for a great gift.
1. A Diaper Cake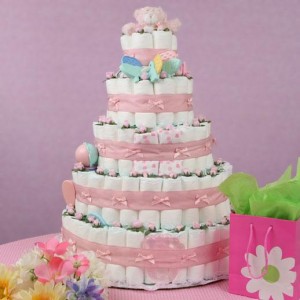 Rather than fill a pregnant mother's tummy with sweets, the baby shower cake can be made from diapers – yes, a diaper cake. This is one cake that won't be wasted and will come in handy, very handy, for the new parent. You don't have to order one. You can make one on your own. Ask guests to help donate diapers, roll each to make different tiers in different sizes. Wrap each tier with a pretty ribbon or cover each tier with different patterend cloths and embellish.