There are many cheap centerpiece ideas you simply must avoid. Although it is true that most magnificent-looking ones can cost a fortune, you don't have to sacrifice taste and style just because you want to save money.
Here are some cheap centerpiece ideas you must stay away: 
Plastic Fruits. If your reason to use plastic fruits is to save money, there are many inexpensive fruits in the market in case you don't know. And aside from having a nice real looking centerpiece, you can also benefit from it for your daily dose of fiber and vitamins. Choose fruits that are in season. Stay away from plastic fruits that look funny and dirty over time.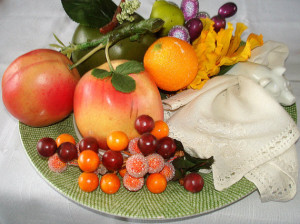 Image Courtesy of www.etsy.com
Fake Flowers. They are very good in collecting dust in your house. Unless you want your kids to have allergies, stay away from plastic flowers.
Recycled bottles. Unless you're really good at it, don't try to DIY mason jars or canisters. A badly painted jar will look like unclean trash. If you're using it on a dining table, it will give an impression that food is badly prepared also. For sanitation concerns, it is always good to present a neat and simple centerpiece.
Bucket of Dry Leaves. As if stones were not enough, a bucket of dry leaves is a real deal breaker. I mean, where did you get them? Are they lying in your backyard or in the street, then you saw them and thought it would be nice and no-cost centerpiece?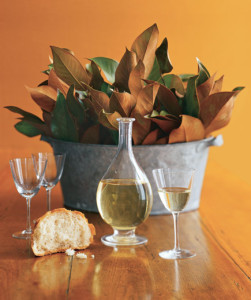 Image Courtesy of www.realsimple.com
Candles (Lots of 'Em!). Okay, candles are timeless and often classy. But not if you overdo it! Sometimes, they cause clutter in the table and there's not much space for the utensils and food.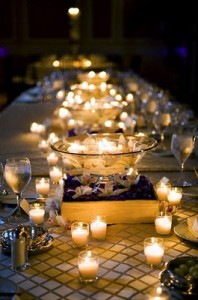 Image Courtesy of www.cockluv.blogspot.com
Super Tall Centerpieces. It doesn't matter if they're expensive, fabulous, and grand. The point is, if you keep it too high, your guests will never have the chance to talk and see each other.
Heavily Scented Flowers. Do not choose flowers that are too heavily scented for a centerpiece because they will compete with the fragrance of the food. You have to stay away from Casablanca lilies, gardenias, and tuber roses among others.
Frustrated now? Out of budget and pressed for time but want to impress guests and family with beautiful centerpieces? Don't fret. Help is on its way! These easy, simple, and cheap centerpiece ideas below will make your table irresistibly gorgeous and inviting! Transform your plain and boring table with these fabulous centerpieces. Enjoy decorating!
Jars and Flowers. You can never go wrong with this. It doesn't need to be an expensive one. You can use the flowers from your garden or your backyard. Use just a few stems will do. Put them in the mason jar and tie a ribbon for that dainty look. Simple yet sophisticated!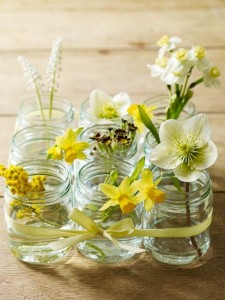 Image Courtesy of www.ohlovelyday.com
Paper Flowers. This is great for budget conscious individuals. All you need is paper and a little bit of creativity. But be careful on this one. The key is not to overdo it, otherwise it will look cheap. Make a simple box out of cardboard and make flower petals and put them together. Stick to pastel and light colors because these colors look more real than loud and dark colors.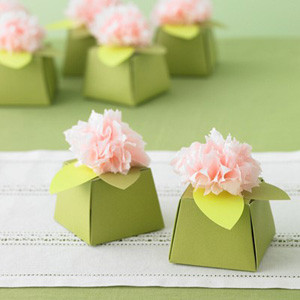 Image Courtesy of www.northridgepublishing.com
Floating Candles. As long as you keep it simple, candles can do wonders! Opt for unscented and plain ones that don't compete with the aroma of your food. Get a jar, put water, and let your candle float. Voila! You have an inexpensive, but classy centerpiece!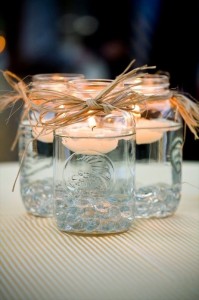 Image Courtesy of board.weddingbee.com
Do you have other cheap centerpiece ideas you want to warn our readers about? How about the inexpensive and creative ones? We would love to hear from you!