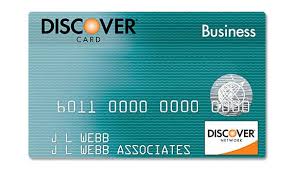 With the kind of technology we have today, it is amazing how banking and e-commerce has come a long way. The competition has brought a lot of favors to people who use their products and services. One of which is Discover Business Card that is offered to small businesses. Credit card companies and banks have expanded their market to the small businesses.
Discover Business Card Benefits:
1. Zero annual fee. Other cards charge $90 every year to the card holders but the business card from Discover does not an annual fee.
2. Smart Shop
Purchase Protection – Within 90 days after buying your item, the Discover business card will restore your lost or stolen item up to $500
Price Protection – You can shop confidently because when you see the same item that you purchased at another with a lower price, the Discover Business card will pay the difference.
Extended Product warranty – Discover business card will extend the product's or the manufacturer's warranty for another one year.
 Return Guarantee – If you are unhappy with your buy, you can return the item to Discover within 90 days and it will refund the cost up to $500.

Fraud Protection – You will not be responsible for any unauthorized charges on your account. Discover will notify you immediately when an unusual activity is detected happening in your account.

Online Shopping Rewards – You can earn 5% to 20% cash back when you shop online through shopdiscover.com  

Cash Over – Get the cash you need without going to the ATM. Get cash upon check out of your purchases. Cash O

ver

is limited to $120 daily and available in participating stores only.
3. Travel benefits.
24/7 Travel Assistance – call 1-800-DISCOVER (1 800 347 2683) for your travel needs. Discover hotline is available 24/7.
Lost Baggage Tracking – Discover helps you locate your lost baggage. They will contact your airline or other airlines and will give you regular status updates about your baggage.
Emergency Cash Transfer – Discover helps you find the nearest banks or ATM while travelling or wire or deliver you the cash you need if you are travelling within the US. Emergency cash is subject to AXA and Discover bank's discretion.
Passport and Travel Document Replacement– If you lose your passport or have your ID's stolen, Discover will provide assistance to replace them.
Embassy or Consulate Referral – You will be directed to the nearest embassy or consulate.
Flight Re-booking/Replacement – If your tickets are lost or stolen, or any emergency that requires changing your travel arrangements, Discover will provide assistance for re-booking or replacing your tickets.
Local Police Station Referral – Discover will provide the nearest local authorities or police station numbers when you need them.

Insurance
Baggage Delay Insurance – when you purchase your ticket using your Discover Business card, your baggage is covered up to $500 when your checked in baggage is delayed for 3 hours.
Flight Accident Insurance – When buying airline tickets using your Discover Business card, you are automatically eligible for up to $500,000 of flight accident insurance.
Auto Rental Insurance – When you rent a car using your Discover Business Card, car rental is insured up to $50,000. No need to worry about the collision damage.
THE REWARDS AND CASHBACK BONUS
 Regular Purchases cashback – 0.25% to 1% cash back on regular purchases on your first $5,000 annual spend.
Gasoline cashback – 2% cashback for the first $2,000 annual spend for gasoline.
Office Supplies – 5% cashback for the first $2,000 annual spend for office supplies.
Discover Gift Card – For as low as $20, redeem a Discover Gift Card for your employees, your vendors, and even for yourself.
The Discover Business Card Drawbacks
Not widely used. Unlike, Visa and MasterCard, You may find it hard to use Discover Business Card in other countries when you travel. It is only widely accepted in the US and some Asian countries.
Good benefits, but not great. Although Discover Business Card offers good benefits, but other similar cards throw in even better and more benefits, discounts and perks to their business partners.
Card reporting. 

If you have big balances, the Discover Business credit card will report it to your personal credit file, and it will affect your credit score.  
This credit card from Discover is a perfect fit for young businessmen or small businesses who are looking to establish good credit. With the discounts, cash back and bonuses this card offers, you can actually save some cash. With this comprehensive report, are you interested in applying for your own Discover Business card?