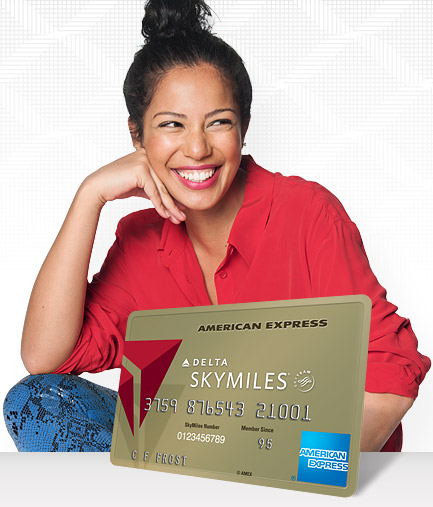 There's been a lot of negative criticism about the Gold Delta Skymiles Credit Card from American Express. It's gotten to the point where pundits are calling it "mediocre". So we're writing this post to nitpick some more and see whether the Delta Skymiles card is worth the space in your tight wallet. In the end, it will be you, dear reader, who gets to decide.
What the Delta Skymiles Gold Offers:
This credit card is a joint venture between two industry giants: American Express and Delta Airlines. Frequent flyer credit cards are no longer new, with most airlines offering their own version. Let's see how the Delta Skymiles credit card stacks up in terms of its perks:
The annual fee  is automatically waived in the first year.
Once you spend $1,000 (accumulated) using your Skymiles card in the first 3 months, you get a bonus of 30,000 miles. Take note that 10,000 miles equals to $100. This means you get $300 if you meet the $1000 purchase requirement in the first 3 months. You can use this amount to pay for your ticket, either in full or partial.
You also get a $50 statement credit on your very first purchase. But make sure to do this within 3 months after receiving your card. You can use the $50 to pay for your next credit card statement.
You earn miles for every dollar you spend using your Skymiles Gold card. For Delta Airlines purchases, your miles double for every dollar spent (i.e. 2 miles/dollar). For other purchases, it's a mile for every dollar
Another perk is that card holders do not have to pay for the first bag they check in. And if the Skymiles card holder is travelling under a group, Delta Airlines allow 8 more people travelling with the card holder to check in their first bags free of charge too.
There's also a 20% discount given if the cardholder makes in-flight purchases. This 20% discount does not translate to a cash discount, but it is instead, given as a statement credit.
Here's where the Skymiles card exceeds the competition: the points never expire. Other airline frequent flyer programs require the points to be redeemed within 24 or 36 months. With the Skymiles card, you can keep on accumulating your points without the pressure of a deadline.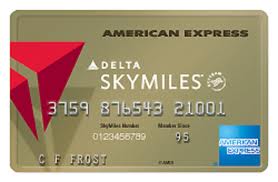 Where the Skymiles Card Underperforms
Now that you know what the card offers, let's see the areas where it underperforms:
The Annual fee for the Skymiles Gold is expensive at $95 dollars. Sure, the first year's fee is waived, but that's already standard practice for most credit cards. If you think Skymiles Gold is expensive, wait till you learn how much Skymiles Platinum and Skymiles Reserve charges. They charge a ridiculous $150 and $450 respectively;
The card only rewards double miles for Delta Airlines purchases. This is sad considering cards like Capital One's Venture rewards double miles for every purchase;
You can only redeem your miles with Delta. Again, this is a big turn-off because other cards allow you to redeem your accumulated miles on any airline. And not only that, the miles can also be used to book hotel rooms and car rentals;
There are also other credit card companies that give bigger bonuses and reward points for practically the same annual fee. The Chase's Sapphire card is a good example of this.
Who should get Skymiles Card
When you compare American Express's Skymiles card with the other frequent flyer cards out there, you will be surprised and disappointed to find out how minimal their offer is. But this card is still advantageous to travelers who fly solely with Delta. The rewards and the bonuses will certainly be a big come-on for loyal patrons of Delta.
Is it safe to call it 'mediocre'?
The verdict on the Gold Delta Skymiles credit card rests on you. You alone can make the call. For some, the Skymiles card is severely lacking. But there are those who are extremely satisfied with it as well.  Everyone has different needs. If the Skymiles card satisfies yours then, by all means, apply for one now. If you're not satisfied with their offer, there are other options for you in the market.
What do you think of the Gold Delta Skymiles credit card? You can share your thought with us in the comment section.