Beans are packed with protein, vitamins, and minerals that can greatly help in improving a person's health condition when taken regularly. Often times, beans are regarded as a side dish but it can actually be a good main dish /entrée. To further help you in preparing your meals, here are some beans and rice recipes that are light on the pocket and very easy to prepare.
BLACK BEANS AND RICE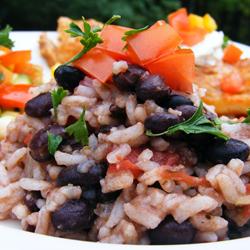 Yield: good for 6 people
Ingredients:
1 cup white rice (uncooked)
1 tablespoon olive oil
1 small onion (chopped)
½ red and green bell pepper (thinly sliced)
3 cloves garlic (minced)
2 16 oz.

cans

of black beans
2 tablespoons white vinegar
¼ teaspoon cayenne powder
1 teaspoon dried oregano
1 tablespoon fresh oregano
Method:
Cook the rice
Heat oil and sauté onions, bell pepper, and garlic. Add the black beans, vinegar, and cayenne. Wait for the mixture to boil and simmer for 5 minutes.
Combine the

sauteed

ingredients with rice and oregano. Add salt and pepper to taste.
HOPPIN' JOHN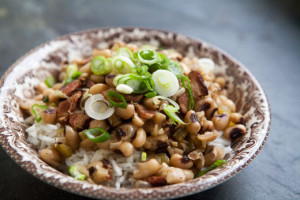 Yield: 4-6 people (as side dish)
Ingredients:
1/3 pound bacon or 1 ham hock with 2 tablespoons oil
1 stalk of celery (diced)
1 yellow onion (diced)
1 green pepper (diced)
2  cloves garlic (minced)
1/2 pound black-eyed peas (dried)
1 bay leaf
2 teaspoons dried thyme
1 heaping teaspoon Cajun seasoning
Salt
2 cups long-grain rice
Method:
If bacon is used, cut into small pieces and cook it slowly over medium to low heat. For ham hock, heat oil in pot. Once bacon is crispy, increase heat and sauté onion, celery, and green pepper. Add garlic, and cook for 1-2 minutes.
Add black-eyed peas, thyme, bay leaf, Cajun seasoning and add 4 cups of water. Let the mixture simmer for 30 minutes to an hour, depending on the tenderness of the peas.
Cook the rice separately, based on package instructions.
Strain the cooking water when peas are tender and remove the bay leaf. Add salt to taste. If using ham hock, remove it from the pot, pull off the meat, and return it to the pot.
The dish can be served by placing the black-eyed peas over the steamed rice, or by mixing the peas and rice in a bowl.
JAMAICAN RICE AND PEAS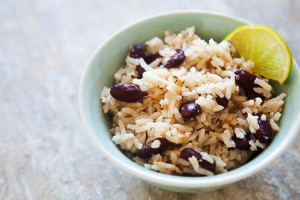 Yield: 6-8 people
Ingredients:
2 tablespoons vegetable oil
½ yellow onion (chopped)
4 cloves garlic (chopped)
2 cups long-grain rice
1 teaspoon salt
1 teaspoon fresh ginger (grated)
1 cup water
1 cup chicken stock (or vegetable stock)
2 cups coconut milk
1 15 oz.

can

kidney beans (rinsed and drained)
2 teaspoons dried thyme
1 whole Scotch bonnet chile Lime (optional)
Method:
Heat oil over medium-high heat. Add onions and sauté for 4-5 minutes.
Add garlic and rice, and cook for 2-3 minutes while stirring often.
Add ginger, water, salt, stock, coconut milk and stir well. Add kidney beans, sprinkle thyme, and add the whole Scotch bonnet chile (or Habanero). Simmer the mixture, and turn heat to low.
Rice should be cooked in 15-20 minutes. Once rice is cooked, remove from heat and stand for 10 minutes.
To serve the dish, fluff with a fork and discard the Habanero.
MOM'S CHILI BEANS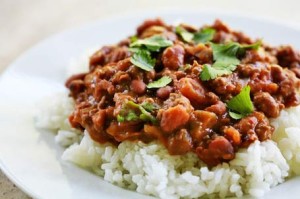 Yield: 4 people
Ingredients:
2 cups Pinto beans (uncooked or canned)
1 pound ground beef or ground turkey
2 cups uncooked white rice
1 yellow onion (chopped)
2 cloves garlic (chopped)
2 tablespoons olive oil
1 to 2 tablespoons chili powder
1 tablespoon chopped parsley
1 14 oz.

can

of tomatoes
1 Jalapeno pepper
Salt
1 teaspoon sugar
½ cup fresh cilantro leaves
Method:
Put in all ingredients and bring to a boil. Keep beans covered and simmer until beans are tender.
Cook rice according to package instructions. Add butter to the rice while cooking for more flavor.
Saute onions and garlic in olive oil over medium high heat. Move the onions to one side, and brown the meat on the other side. Add chili powder to the meat while cooking.
Add onions and garlic to the cooked meat, together with the chopped parsley, tomato, and Jalapeno pepper. Add salt and sugar to taste.
Add the cooked beans to the meat and simmer for 5-10 minutes. Add cilantro leaves before serving over rice.
BAKED LENTILS AND BROWN RICE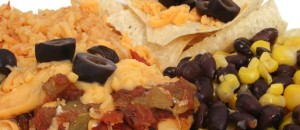 Yield: 6 to 8 people
Ingredients:
2 cups chicken or vegetable broth
1 cup water
1 cup lentils
1/2 cup uncooked whole grain brown rice
1 small onion (chopped)
2 teaspoons Italian seasonings
2 garlic cloves (minced)
1/2 cup carrots (shredded)
1 cup shredded cheese
Method:
Combine all ingredients except the cheese in a baking dish.
Cover with foil and bake at 300 degrees for 1 hour and 10 minutes.
Remove from oven, remove foil, and spread cheese over the mixture.
Bake for additional 20 minutes.
With these quick and easy-to-do beans and rice recipes, saving and cooking healthy is as easy as two three. Try these recipes today, and begin your journey towards a healthier you. Do you have other beans and rice recipes you want to share with us? Please do. We would love to hear from you.