Putting your hard-earned money in the bank is a safe and secure way to earn interest. But conventional banking has its limitations. You have to do your transactions during banking hours only. They are closed during holidays. Most banks require a high maintaining balance to keep an account active. However, Discover Online Savings is not like any other banks.
Discover Online Savings bank understands the needs of their modern day clients. This is the reason why they developed a way to provide convenience banking through the internet.
Online Convenience
For people who are always on the go or are too busy to go to the bank to do their transactions, it is a great convenience to be able to access their accounts when they need it the most. They do not need to go out between office hours just to go to the bank. They need not rush before the bank closes to deposit or withdraw money.
Clients can now access their accounts online through the internet. At Discover Bank, clients enjoy 24 hour banking where they can transfer money, pay bills and also monitor their funds easily. They can also access their accounts anytime and anywhere with the use of their mobile phones using a mobile banking application.
Lower Initial Deposit
To maintain a regular bank account, other banks usually require a minimum deposit and maintaining balance of $2,500.00 a month. You can open a Discover online savings account for a minimum deposit of $500 only. Unlike regular savings accounts, there is no minimum maintaining balance to keep the account active. Because of this, expect that there are no extra charges even if your balance is $0.
Get More From Your Savings
Your money can earn over five times the National Savings Average if you put it in a Discover online savings account. This is because online savings accounts have fewer fees and have higher interest rates. According to the MoneyRates.com 2Q 2013 survey of 100 traditional and online banks, Discover online savings bank has the best savings interest rates there is in the market.
At present, the Discovery Online Savings Bank has a current yield of 0.80% (0.85% for High Deposit Customers). You also save on extra charges or fees because there is no minimum maintaining balance, as well as, no monthly maintenance fees. Routine money transfer transactions are also fast and free of charge.
Easy Money Transfer
You can easily transfer money from one account to another. You can easily fund your online savings account with money from another bank account through this easy money transfer feature. Discover Online Savings also has a 24 hour US-based banking helpdesk that can assist you with all your money transfers and other banking transactions.
Insurance
There are many other banks that also offer online savings to their clients. But it is important to know if these banks are accredited by the FDIC or the Federal Deposit Insurance Corporation. Your deposits in Discover Online Savings are insured by the FDIC up to the maximum deposit allowed by law. Expect up to $250,000 per online savings account is guaranteed under this insurance coverage.
Safe and Secure Banking
Many people are skeptical about putting their money in an online savings account because there are many hackers who can easily hack in and get your hard-earned savings. There have been many cases of online theft and also fraud, that caused many people to lose money. Fortunately, Discover Online Savings bank assures its clients that all their personal information is safe and secured through their state-of-the-art security features. The system is well monitored, protected by firewalls and are equipped with advanced encryption technology that make it virtually impossible for other people to access their client's personal information.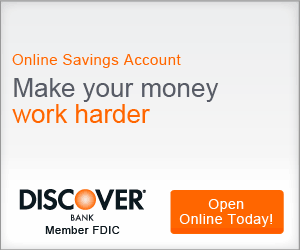 Make the most out of your savings by opening a Discover online savings account today. Enjoy the accessibility and flexibility of online and mobile banking. Your money is bullet proof with FDIC insurance and above all you get a high yield with one of the best interest savings rates that only Discover Online Savings can offer.
If you are looking for a secure and convenient banking institution to safe keep your money — choose Discover Online Savings. 
Start now and save!