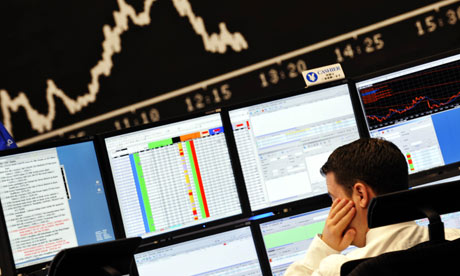 Stockbroking is one of the most financially prospective careers out in the market today. Stocks lie at the heart of the global financial system and stockbrokers are the people working with stocks. However, as promising as it may sound, it's not an easy occupation. There is certainly a huge competition in the sector, yet there is always room for the most promising entrants. So if you want to know how to become a stockbroker, follow these steps:
1. Prepare yourself for stockbroking early
Knowing a few extra things is the difference between success and failure in the world of stockbroking. While a lot of us dream of becoming the next Warren Buffet by entering the world of stocks, we also need to know that he didn't become one of the world's richest persons just by accident. You need to own a keen interest in the world of finance to enter the world of stockbroking. So make an extra effort towards understanding vital information about stocks and stock brokering written in the business section of your favorite newspaper or news portal. In time, this will give you the extra edge in your stockbroking career.
2. Get a bachelor's degree in finance
In the past, just about anybody from any background could become a stockbroker. But times have changed. It's now essential that you know the basic function of the financial sector, before you embark in a stockbroker career. A bachelor's degree in finance, economics or business administration can be the perfect tool to understand the world of finance, before making a career in it.
3. Start investing in the stock market to know them well
Theoretical knowledge about the stock market will serve little purpose until you apply it in the practical world. While it may not be easy to enter in the stock market as an employee immediately after getting your bachelors, becoming a small scale investor can help your purpose. Start with some investment, be it $100 or $1000, start investing and know the market. Your interest towards increasing the value of your investment will certainly play a key role in entering the stock market as a stockbroker.
4. Get an internship or a basic job from stockbroking agencies
No matter how small the pay is or how boring your work is, personally getting to know people making money in the world of stocks will ultimately be the medium to help you become a stockbroker. Whether your job is that of a clerk or a receptionist, you will ultimately know the real people and the real workings of the world of stockbroking.
5. Get an MBA, specializing in finance
After some practical experience, leave your job and enroll in an MBA that particularly specializes in finance. An MBA after a basic job, not only makes you a mature player, but also ensures that you are taken seriously.
6. Take up an entry level job
After you complete your MBA, take up a serious job that can enhance your knowledge. You may be a bank broker, a discount broker or a full-service broker. Select the list of clients that fit your career outlook and start working immediately after you have been hired by a client. Consider a paid internship too, if a paid job is unavailable.
7. Get certified
There are different standards of certification that differ from country to country. Know the certification procedures of your country and take all the necessary exams. For instance, in the USA, you need to take the general securities (GS) license by passing an examination conducted by the Financial Industry Regulatory Authority (FINRA).
8. Adjust to the settings
To succeed in stockbroking, you will probably need to work long hours and meet hard targets at the beginning of your career. Only the true survivor can actually become successful in the field of stockbroking. So no matter how demanding the schedule is, be ready to face them all.
9. Steadily and patiently climb up the ladder
You need to make a steady progress by opening your eyes constantly for new opportunities. You also need to be patient to ensure that no temporary setbacks can hold your progress.
With these steps shared on how to become a stock broker, are you ready to embark on a financially rewarding career?