It's that time of year when you know your partner is expecting something from you – your anniversary. At the same time, you're also expecting to be surprised by your sweetheart. So, which is it? Who's going to surprise who and how? There's no rule of thumb when it comes to anniversary surprises. What matters most is that every gift given and everything done is from the heart. It's always the intention that matters, but make sure to spend an extra effort to give your sweetheart what he or she likes most. If you think you have to throw your budget out the window during this day each year, you're mistaken. In fact, when you go into a relationship, expect budgets to get thrown out almost every day. However, you can limit your spending with these cheap anniversary ideas and still let your partner know that you appreciate the first or another year with them.
10. Breakfast in Bed
This is one surprise your darling will never tire of. This makes him or her think that you went through all that trouble waking up early and preparing his or her favorite breakfast all before waking up. When your darling does wake up, make sure it's just in time for you to enter back into the bedroom. Adding a single rose to the arrangement and a lovely letter, you're good to go. If you already have a family, make sure that the kids join in the preparation and surprise. Then promise your wife or husband for some alone time later that day.
9. Romantic Lunch Date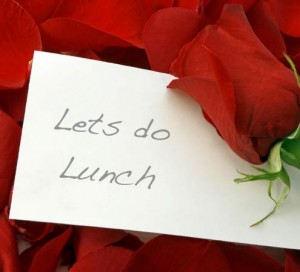 Surprise your partner with a lunch date. This is made all the more romantic when you surprise him or her at the office or wherever he or she works. Make sure to inform the bosses first so that your partner won't get into trouble. If your partner stays at home, then take some of your lunch break to go back to the house, whisk your partner away and into a delicious restaurant nearby for a lunch date.
8. Bedroom Surprise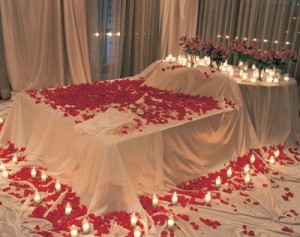 Many couples will be expecting this, but it still does the trick. When celebrating your anniversary, you can reinvent your bedroom into a romantic abode. Fill your bedroom with aromatic candles, turn off the lights, close the shades, scatter some petals on the bed, and leave a trail of roses from the main door to the bedroom. Your partner will be so pleased and excited to see this!
7. A Surprise Serenade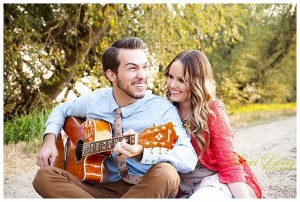 This would be an even wonderful gift and a more surprising idea if you who are doing the serenade are not one to typically do something like it on an ordinary day. This just speaks of your love for your partner; that you're willing to do anything, even go out of your comfort zone, just to make him or her feel special.
6. Bubbly Surprise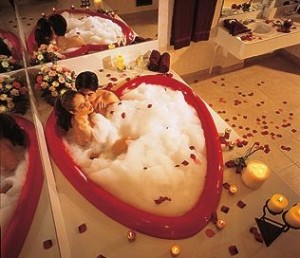 Reliving the romance is always important with every year that you go through as a couple. To do that, you can surprise your partner in where else but the bathroom? This is even great if you have a tub at home or a whirlpool bath. Get the bubble bath going and scatter some rose petals on the floor and on the water. Light some aromatic candles and place a chilled bottle of champagne nearby. Turn on the lights and see the candles play around in the dark just as you and your partner play with each other.
5. A Kinky Treat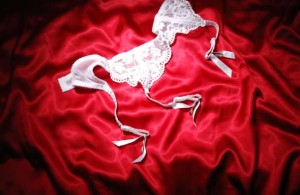 Sure you might be doing this almost every night for the past few years or months that you've been together as a couple, but if he hasn't seen you in a new lingerie yet other than your usual undies, then give him the treat of his life. If you're the man and want to see your darling wearing something sexy in bed for a change, leave a wonderfully wrapped gift on the bed to surprise your partner. When she opens it, she'll know what you want immediately.
4. Dance the Night Away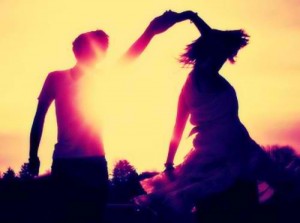 If it's been quite a while since you last danced together, then go out and dance the night away, just the two of you. Depending on the taste of your sweetheart, you can go clubbing, go ballroom dancing, or simply stay at home, dim the lights, play the music, and sway your hips with your hands around each other.
3. Candlelight Dinner
This is a treat especially if you haven't had the chance to have the house to yourselves. If you've got kids, schedule to have them stay at a friend's or relative's house. Clean up the house, place roses and candles everywhere, and cook for your love. Know the delicious foods they he or she just can't resist. What happens afterwards is something you both can enjoy behind closed doors.
2. Relive Your Wedding Night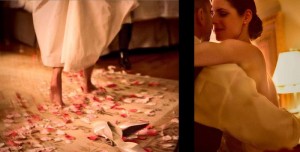 Not all wedding nights have gone perfectly smooth. From the hectic wedding, most have gone straight to sleep afterwards. If you both haven't had the time to fully enjoy the night of your wedding, relive it on your anniversary. You can go all out and carry your sweetheart from the door threshold up to the bed. If you aren't yet married, you can relive your first date. Reminiscing the times when you were first attracted to each other helps to keep the romance alive in your relationship.
1. Give Yourself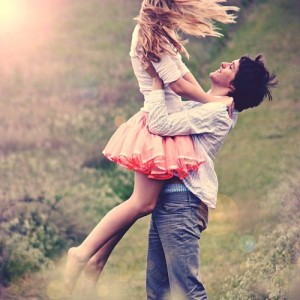 The greatest gift you can ever give to your loved one on your anniversary is yourself. This holds true for couples on a long distance relationship. It also holds true for couples who've been so busy with separate lives that time together has been taken for granted. Spend some time together, just the two of you, doing the things you two love to do. Don't limit it to one day only on your anniversary. Do it for the rest of the days of your lives. Give yourself to one another.