Buying gifts for the holidays is stressful, time consuming and could be very expensive. While a variety of gift items in different price ranges are available in almost any store during the season, there is something very special about giving DIY holiday gifts.
If you buy a gift from a store, you could be sure that there are more items just like that and the likelihood of a person receiving that exact same gift that you bought is high. Whereas if you have the talent and the extra time on your hands, there are several gift items that you could make, which the persons who are to receive them would definitely treasure more. And when you're done, you might be amazed to discover a talent you did not realize you have and all you could say is wow!
10. CD-Clock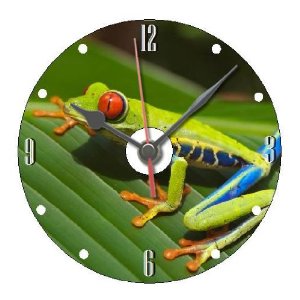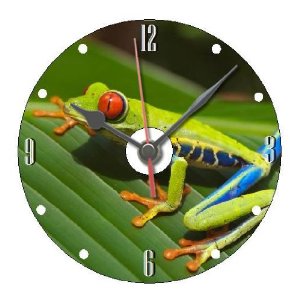 Buy cheap CDs or use old CDs, clock mechanism and batteries. Know the things that the person you are giving the clock to likes, such as animals, sceneries, painting, a person or whatever. Find an image and print it on photo paper with adhesive at the back. Do not forget the numbers. You could even have it custom printed and stick it on the CD face, install the clock mechanism and voila, you have a personalized CD-clock. A small wood picture stand completes your DIY holiday gift.
9. Chunky necklace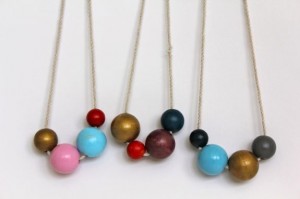 These are perfect for young girls and women who love to accessorize. Buy inexpensive wood beads at a craft store. These come in different sizes and shapes. Buy some length of rattail in different colors, craft paints and spray varnish. Decorate the wooden balls with the craft paint in bright colors or in the favorite color of the recipient. Apply varnish when the paint is dry. String them with the rattail and knot the loose ends or apply heat to seal off the ends to prevent unraveling.
8. Braided belt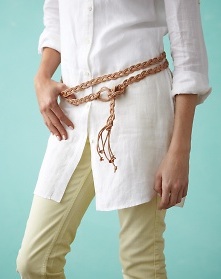 Buy 20 meters of 3 mm round leather cord and one round metal ring. Divide the leather cord into three equal lengths and fold in half. Make a half hitch on the metal ring and tie it to something heavy so you could braid the six strands easily and evenly. Put a tight knot at the end of the braid when you are about six inches from the end. Tie a knot at the end of each strand. You could also slip each strand into a small wooden bead if you have them before knotting the end. You now have a long braided belt that could go around the hips twice.
7. Colorful bracelets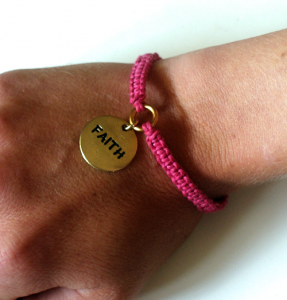 If you crochet or do macramé, then it would be very easy for you to weave a variety of bracelets in varying widths and colors. Accessorize the bracelets with beads, crystals or pearls for a more glamorous effect. Add a charm or pendant with the recipient's name for a more personalized touch.
6. Personalized notepads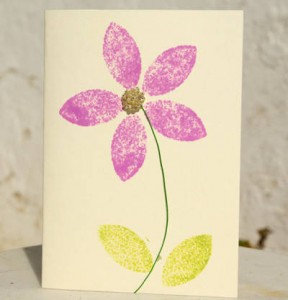 Buy a ream of bond paper. Have someone cut the paper in half or into four. Clamp each bunch with heavy-duty clips. Mix white glue with some water then paint it on one side of the paper and leave to dry. Look for rubber stamps with cute images or even those with names. Decorate each page or the side of the pad with the rubber stamps and your friend will remember you for a long time.
5. No-sew multi-strand scarf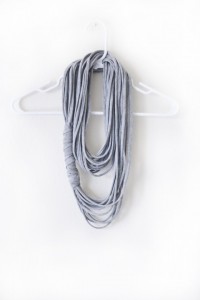 Scarves are big things nowadays, especially during the holidays and creating holiday gift is a breeze, you'd really say wow and make several for yourself. All you need is a large or extra-large old shirt. Lay it on a flat surface, and cut the hem of the shirt. With a ruler and pencil mark two-inch horizontal strips from the bottom up to the armpits. Draw faint straight lines as cutting guide. Gather the strips; stretch it out until the edges curl upwards. With the sewn hem that you cut earlier, wrap it around the strips several times one way and then back up until it meets the end where you first started and tie them in a knot. Push the ends under the wrapping to secure them. Use plain colored or printed old shirts for variety.
4. Spoon ring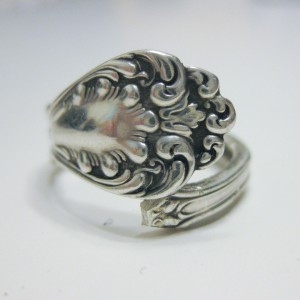 If you are handy with tools like hack saw and hammer, you could make a unique spoon ring. Visit a thrift store and look for sterling silver teaspoon or spoon with a beautiful design on the handle. Measure your finger with a strip of paper and mark where it overlaps. Cut the handle of the spoon slightly longer than the finger size to make the ring wrap around the finger. File the cut end with a metal file or find sandpaper. Wrap the head of a small hammer with rag and secure before hammering the handle to bend it into shape over a dowel. Once you are done, polish the ring into a high shine.
3. Lace pottery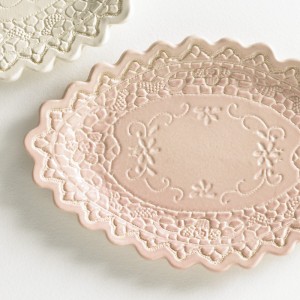 Find vintage lace doilies and buy some porcelain clay. Roll out the porcelain clay on a clean surface, following instructions and press the lace doily over it. Use a very sharp knife to trim off the excess and create other details before carefully peeling the doily off. Lay the porcelain clay over a plate or bowl which will serve as its mold and leave to dry for 24 hours.
2. Denim tote bag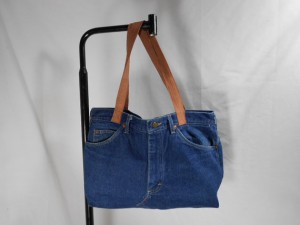 Recycle an old pair of denim pants that you no longer wear. Cut the top into shorts length and open the inseam until the two pieces could lay flat. Sew the places where you removed the threads. Reverse the shorts and sew the bottom seam close. Use one leg part to make straps to attach below the belt loops. Decorate with embroidery, colorful buttons in different sizes or sew patches, lace and other trimmings.
1. Scented body scrubs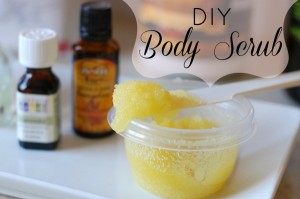 You'll need two cups of Epsom salt or organic cane sugar, a cup of carrier or base oil, a medicine dropper, essential oil(s), food coloring and canning jars. Stir the salt or sugar and the carrier oil in a bowl, add a total of eight drops of essential oil, adding one drop at a time while stirring thoroughly to blend it in. Add one drop of food color to represent the scent of the body scrub. Recipe makes 2 1/3 cups. Transfer into canning jars and add labels tied with abaca twine or raffia.
So you see, you do not need to buy expensive gifts as there are many DIY holiday gifts you can do that will be more meaningful and personal. With these projects, you'll definitely hear yourself saying wow before the people receiving your gifts say the word as well.